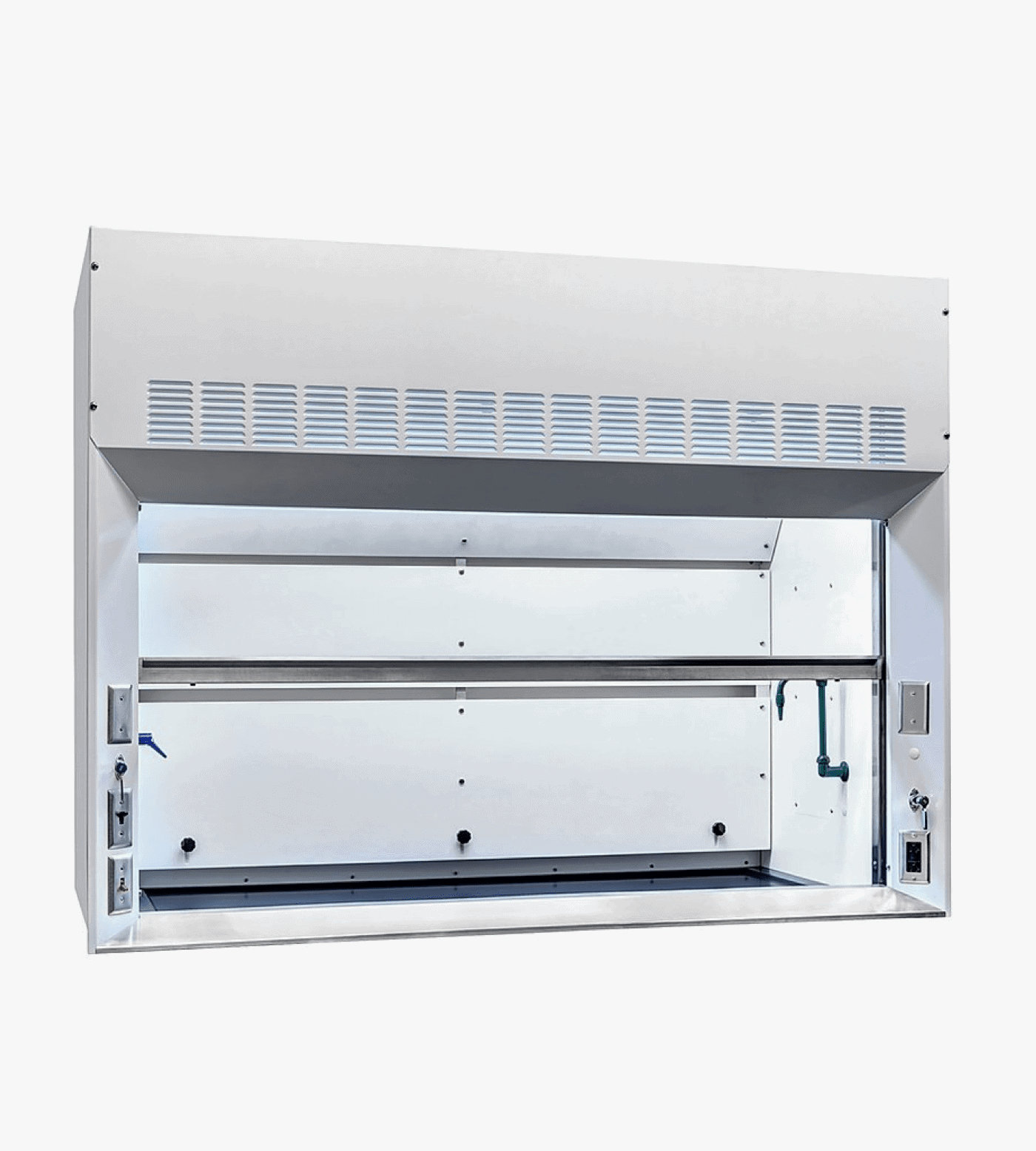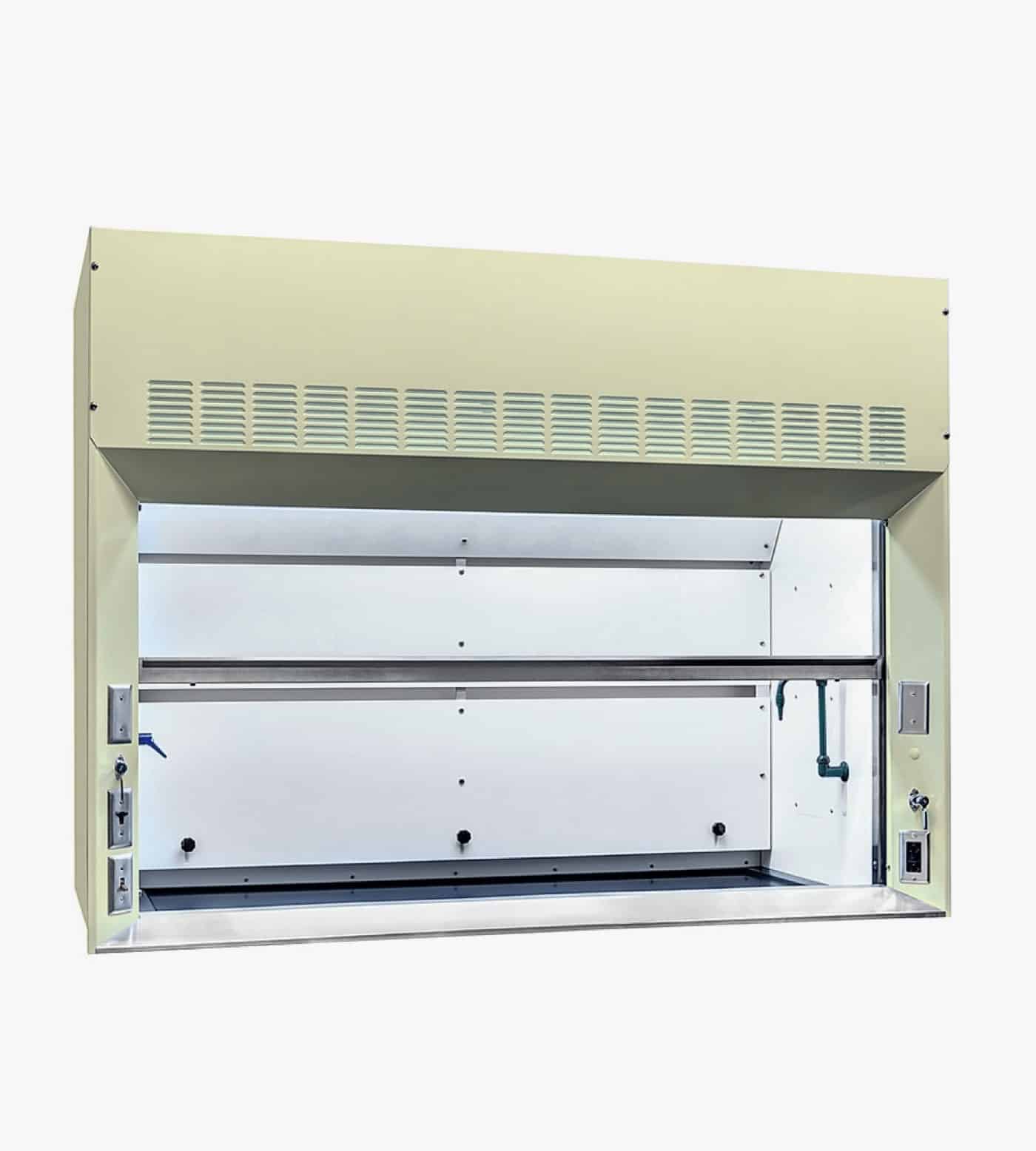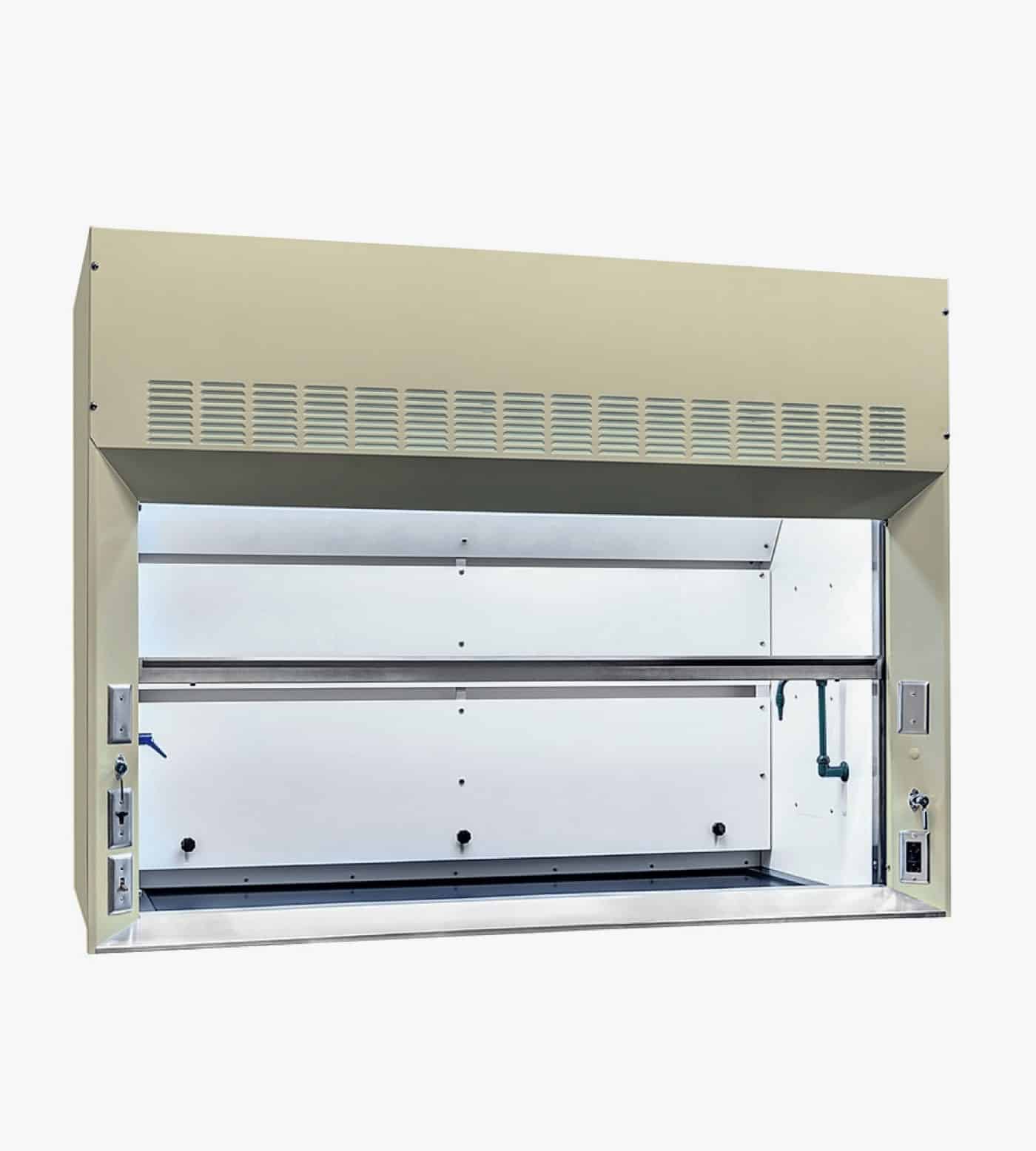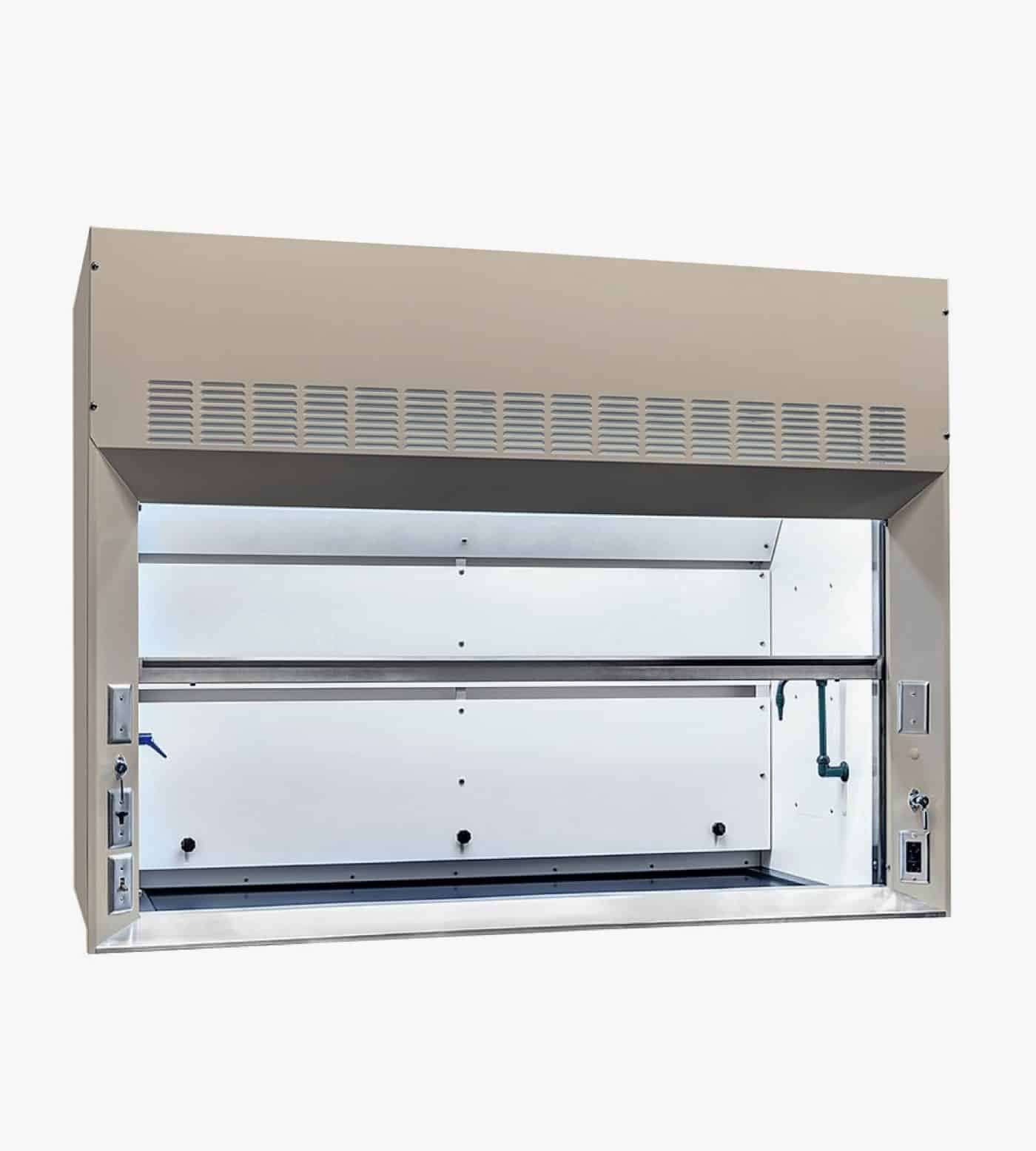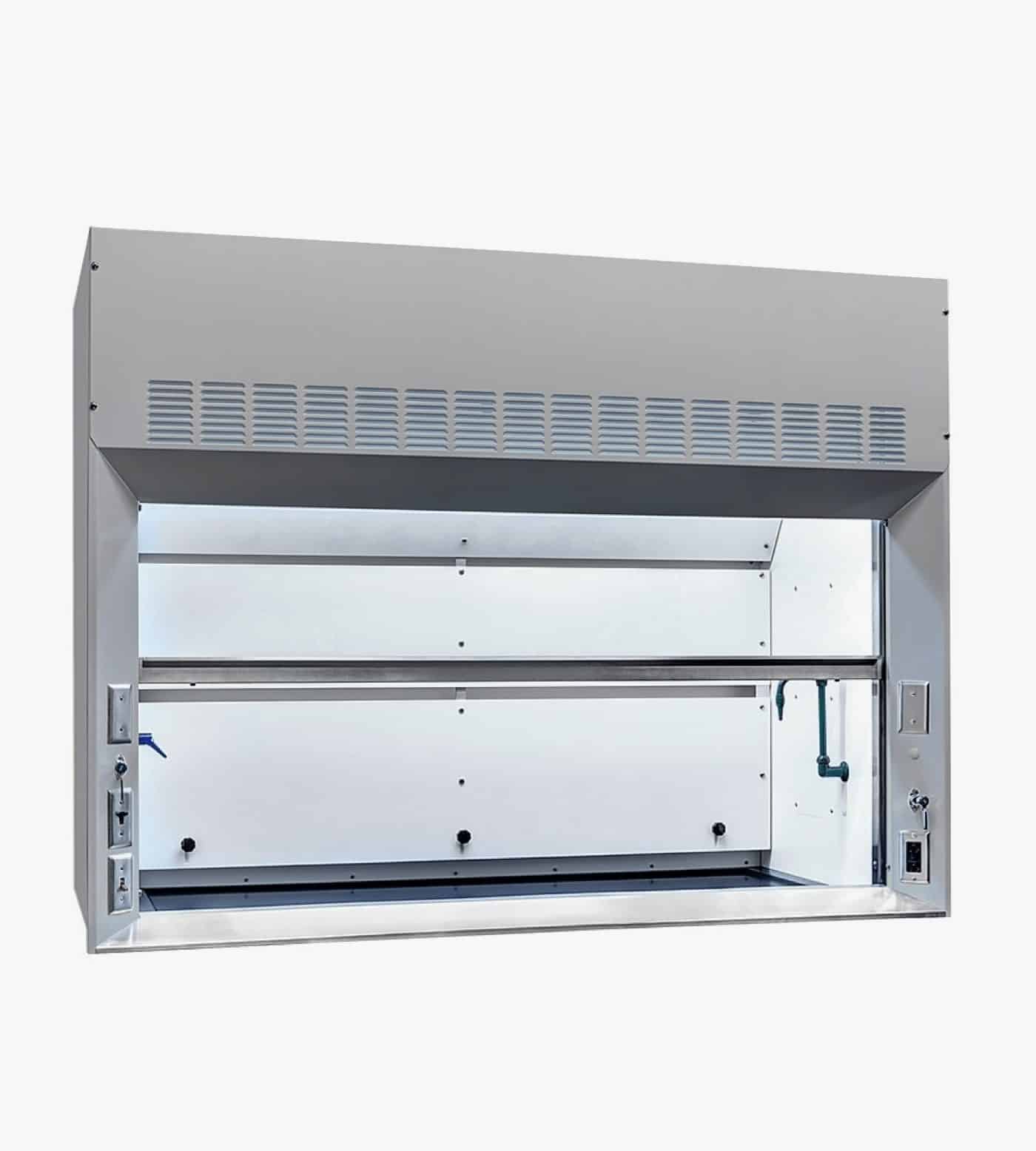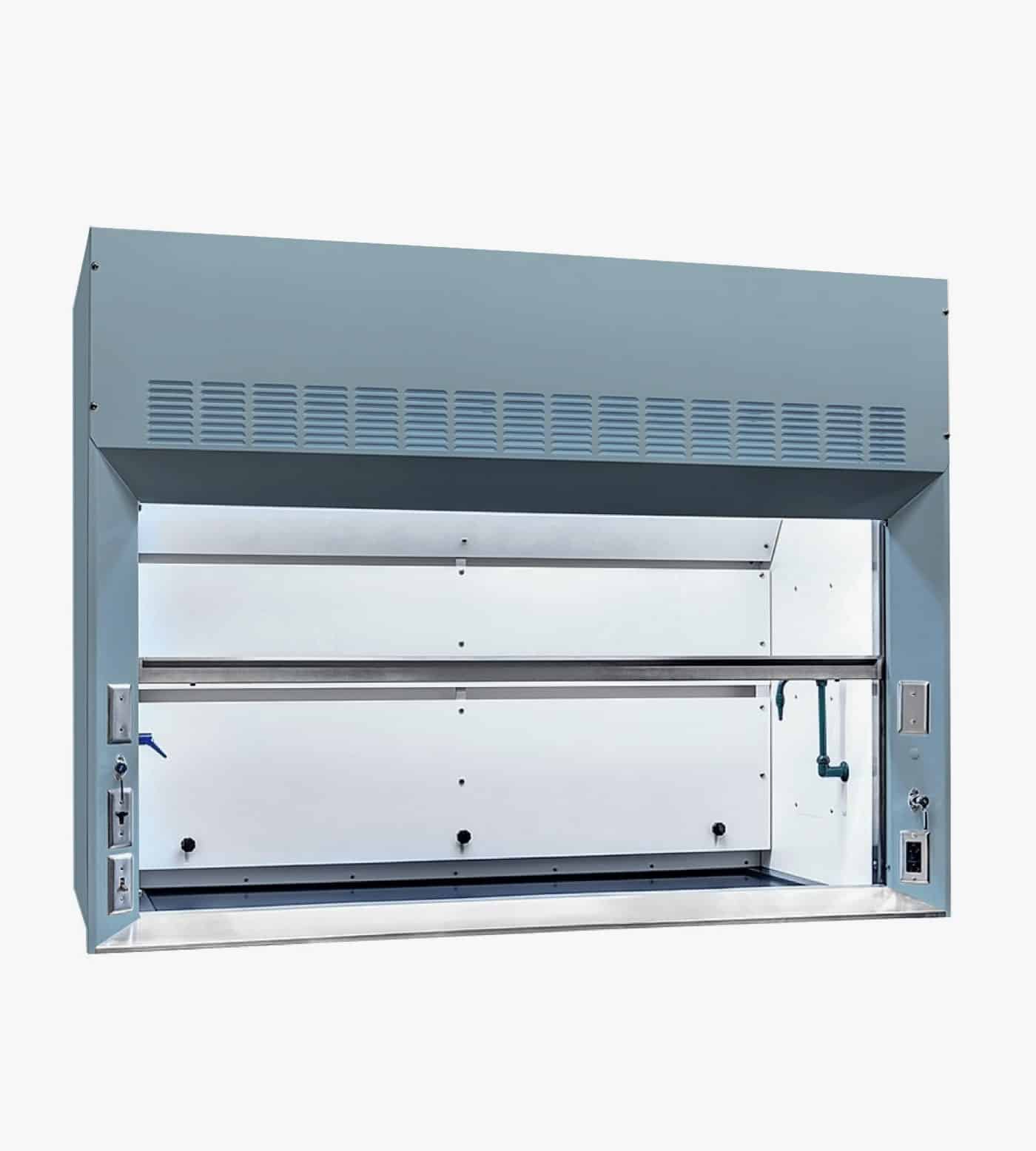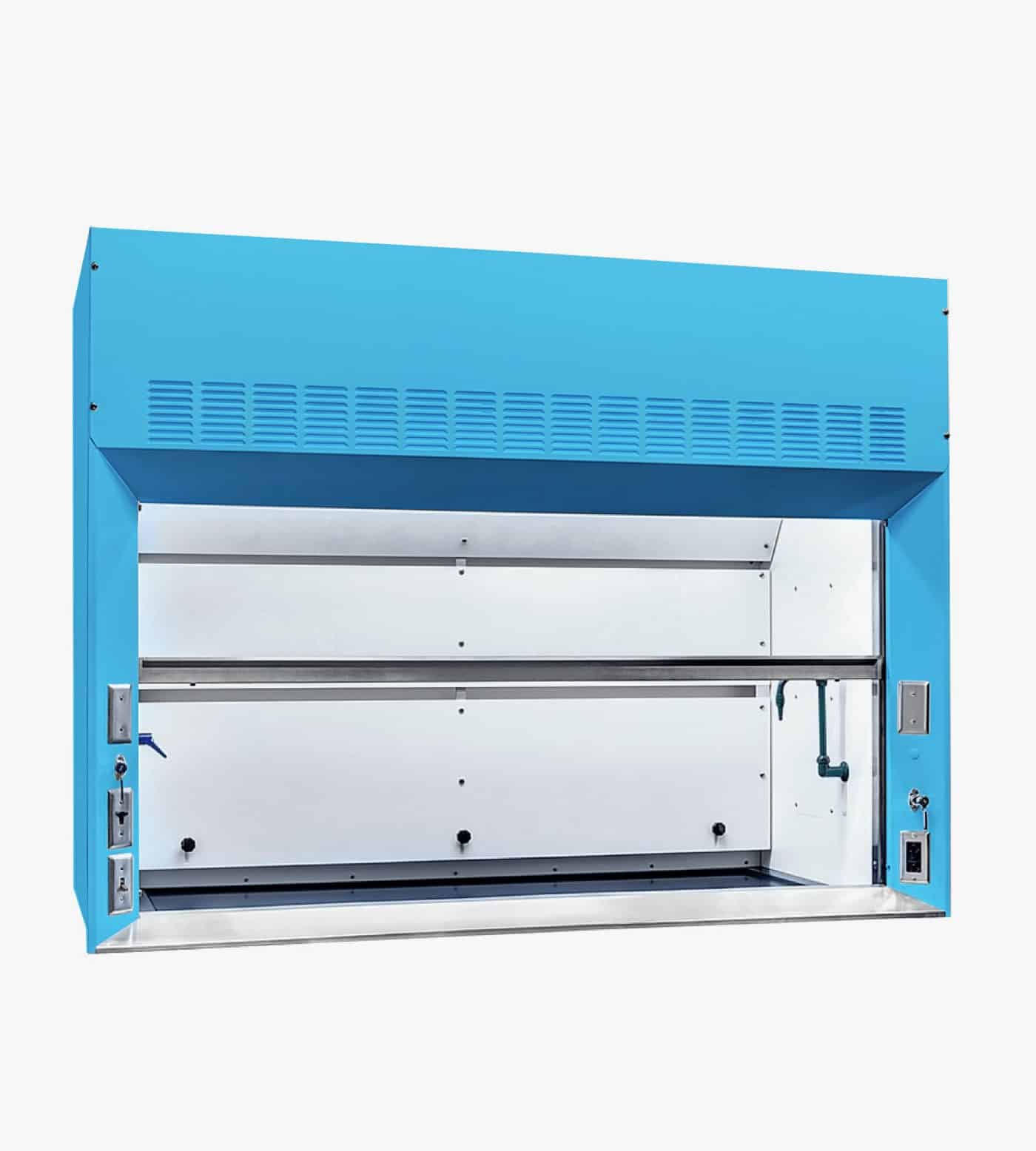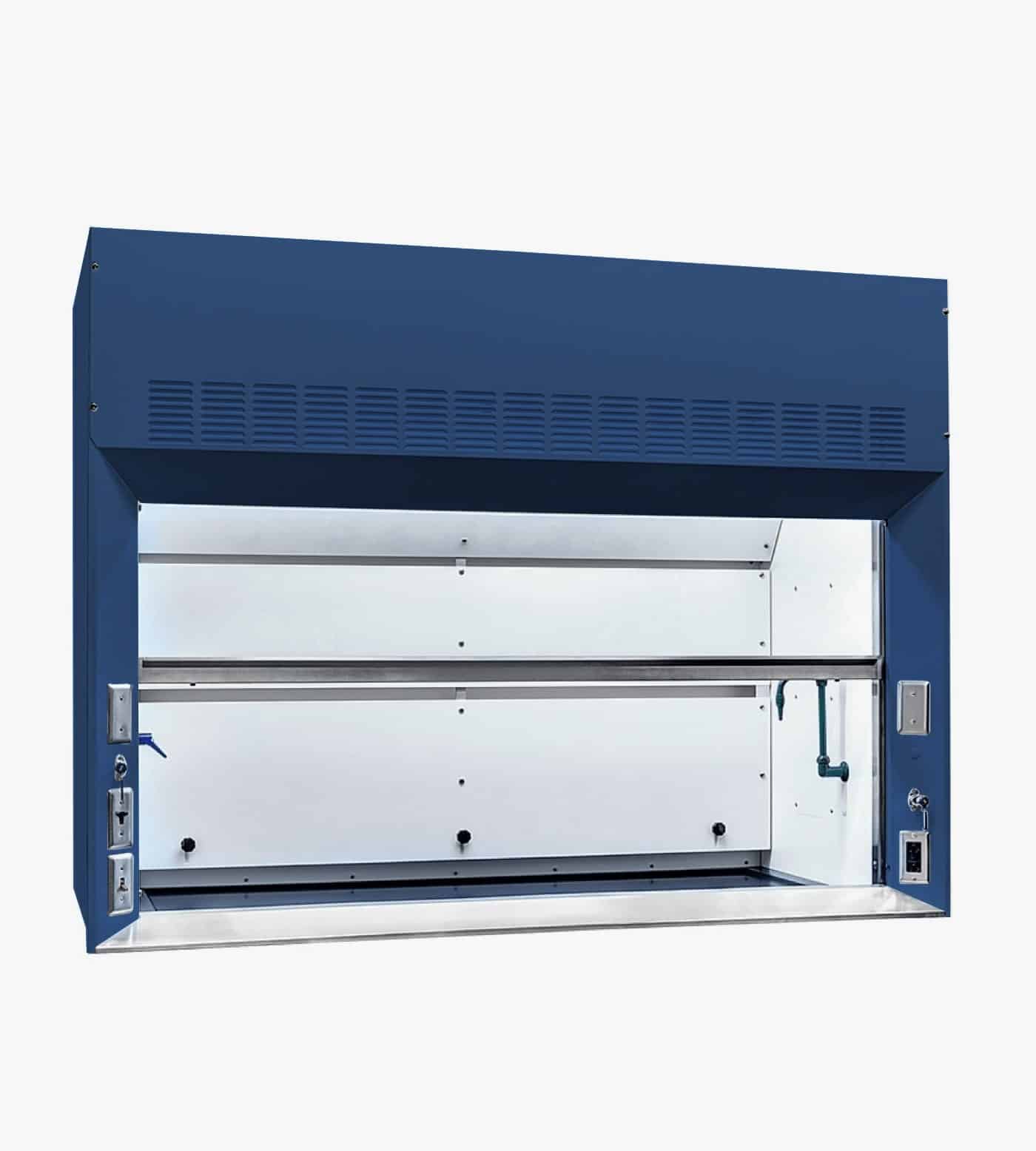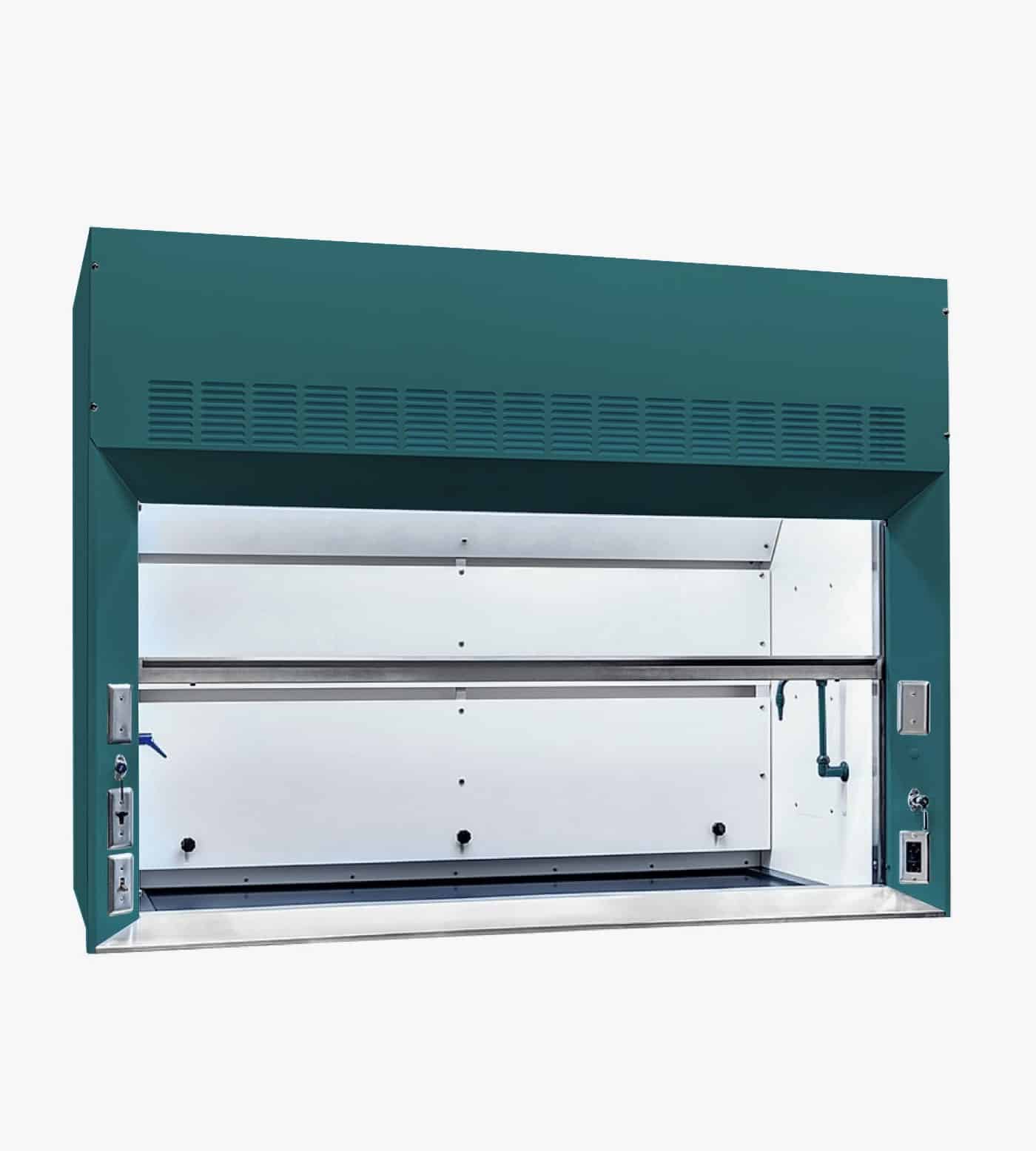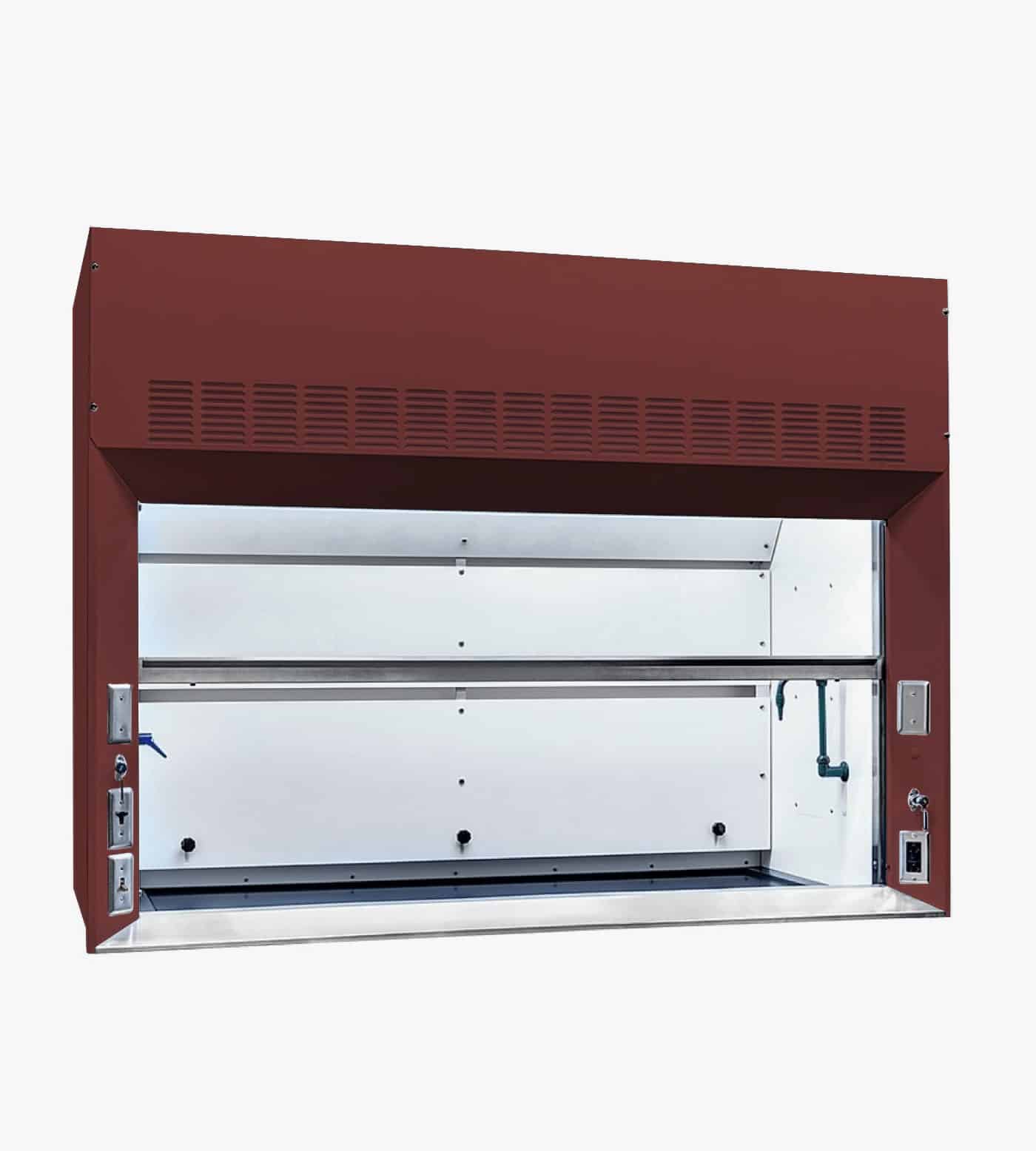 AirGuard Pro Benchtop Series Fume Hood
With its angled front panel design for improved variable airflow, the customizable AirGuard Pro Series Benchtop Fume Hood is the perfect blend of affordability, efficiency, and flexibility for any research, education, or industrial operation requiring a general use chemical fume hood. Its bypass technology provides consistent laminar airflow across the face of the hood, ensuring a safe work environment for all users.
The full-bias sash perimeter and multi-slotted baffle system provide optimal airflow characteristics, performing effectively down to 60 ft/min face velocity – important for "air-starved" rooms and general energy conservation. In the iQ Labs tradition of function, durability and value, the AirGuard Pro comes with a long list of standard equipment that aid in its work as a green energy fume hood.
Color options
Standard Features
Our fume hoods are built with lasting quality and craftsmanship. We offer an extensive list of standard features and only use top quality materials, delivering a product that far exceeds that standards in today's typical fume hood. Our ability to customize the design of our products gives you the flexibility to tailor your hood enclosure to the exact needs of your laboratory space.
Comes standard with an exterior height of 54″, internal height 48″.
Rigid 16-gauge superstructure steel pan designed framework
Removable side panels for easy access to interior plumbing
Three-piece baffle system with adjustable upper and lower dampers to regulate lighter-than-air and heavier-than-air gases
Side post electrical and plumbing knockouts – on bias surface; in standard or ADA configuration
Pre-wired and pre-plumbed electrical and service outlets
Stamped bypass louvers to control bypass air volume
Full frame, stainless steel vertical sash with integral stainless steel finger pull
Stainless steel sash guides, lower airfoil, duct collar
Sash/counterweight pulley system utilizing four 2 ½"-diameter pulleys for one-finger sash movement; full-width counterweight featuring "Tilt-Lock" for additional safety and durability
LED lighting for improved work space visibility
Flush interior lining reduces leakage and eddy currents, contains interior air flow, and simplifies the cleaning process
What are the main features, elements, or parts of this type of fume hood?
Built off our 16 gauge galvanized superstructure and chemical and fire resistant poly resin liner. It has the flexibility to be easily customized with up to 10 plumbing services and 4 electrical services. The flexibility of the steel pan construction allows for easy sizing customization for application specific projects. It's stamped louver front panel allows for smooth bypass airflow.
What testing or standards is it built under?
ASHRAE-110
What materials is it made out of?
16 gauge galvanized, 18 gauge cold rolled steel makes up a large portion of the hood structure and external materials. Chemical resistant poly resin is used for most applications but stainless steel is used for radioisotope applications and poly resin or pvc can be used for hydrochloric acids. The airfoil, sash and sash guides are made from stainless steel 304 with #4 finish. All hardware fasteners are made of stainless steel or corrosion resistant PVC (depending on application).
What sizes are available?
We offer standard sizes ranging from 36" wide up to 96" wide. This benchtop model comes with a standard height of 54" and depth of 34". Width, height and depths are all customizable if needed to fit the specific application or space.
Add-On Equipment & Accessories
Liner material – Standard poly resin liner with optional stainless steel
Electrical switches and receptacles. Also explosion-proof lighting and fixtures available.
Remote-controlled plumbing fixtures, with chrome or color-coded outlets. Pre-piped hard copper with soldered joints.
Choice of sashes – vertical rising (standard); top-hung horizontal sliding; combination (vertical /horizontal); interlocking vertical (disappearing post)
Vapor-proof fluorescent light fixture – 2' or 4' (bulbs not included)
Sash stop
Ceiling enclosure
Air velocity monitor/alarm
Automatic sash closer
Countertops – epoxy, phenolic, stainless steel
Cabinets – complete line of metal laboratory casework, including hood base, acid storage and flammable storage cabinets
Blowers – selected to match hood and duct work configuration, corrosive or ignitable exhaust fumes
Does a blower come with it? What size is needed?
We can provide a blower at additional cost. We offer blowers to support a wide range of hoods sizes and quantities depending on the HVAC needs of the laboratory.
Is it customizable in any way?
We offer a wide range of options and accessories. Our fume hoods are offered in a wide variety of sizing options so "customization" isn't usually necessary but it is offered.
What are common accessories or add-ons?
Casework
We offer steel casework with a chemical resistant epoxy powder coat finish. These steel cabinets are extremely durable and can be used in almost any laboratory setting. Typically, steel casework is used in "wet" lab environments but as we stated, it's versatile and can be used in institutional (education), industrial, manufacturing and other laboratory settings. Our casework and benches are offered in either sitting or standing heights.
Lab Benches and Fume Hood Bases
We offer steel tube work benches, lab tables and ADA fume hood base cabinets that we can build to standard or custom sizes based on the need of the customer.
Counters
We offer epoxy resin, stainless steel, phenolic and butcher block style work surfaces. Epoxy resin is by far the most common due to its tough durability and its chemical resistance. Wet labs will typically use epoxy resin but you find epoxy surfaces in almost all types of labs. Wood or butcher block surfaces have grown in popularity but lack the durability and chemical resistant properties of epoxy resin. Stainless steel counters are often found in clean room environments and food or cannabis processing. Phenolic is another option we offer and has good chemical resistant qualities but lacks some of the durability epoxy resin offers. It is a more budget friendly option compared to epoxy resin.
Explosion-proof hoods
We offer our hoods with explosion proof lighting, switches and receptacles if the application requires it.
Fume Hood Installation
What fixtures, ductwork or plumbing is needed for this type of fume hood?
Our hoods come with standard duct collar sizing of 9", 10" or 12" depending on hood size. We offer the following plumbing services standard but can do custom: air argon, carbon dioxide, nitrogen, cold water, oxygen, distilled water, special gas, vacuum, hot/cold water, gas, hot water, hydrogen and steam. Also offered are electrical outlets, LED lighting.
Where does this type of fume hood usually get installed?
These fume hoods are generally installed in a laboratory, manufacturing, quality control/testing, or educational space. It is important to consider location of the fume hood, foot traffic, and entry and exits to the room that they are being installed in to avoid cross drafts or air currents that can negatively impact the performance of the hood.
Does iQ Labs install fume hoods?
We do not install the fume hoods but we do work with partner companies who specialize in installation.
Do you install fixtures or ductwork if needed?
Fume hoods come pre-wired for electrical and pre-plumbed allowing them to be easily installed by an electrician, plumber or appropriately qualified maintenance technician. The fume hood comes with a duct collar installed to allow for easy hookup to the duct work. This is typically performed by an HVAC technician.
Can you install cabinets, tables, workstations, or desktops as well?
We do not do the installation but can connect our customers with qualified installation crews around the country.
What is the lead time?
Lead time on our standard fume hoods is between 2-4 weeks.
Does customization affect this? How much longer does it take?
Yes, customized product lead time is typically between 3-6 weeks.
Fume Hood Use & Safety
What are the usage and safety rules?
Refer to our fume hood safety guide blog post for the most comprehensive answer on this question.
Do you provide any fume hood training or resources?
Every fume hood comes with its installation and care manual giving basic instructions on usage guidelines and preventative maintenance. We offer resources on our website (blog posts) that talk about proper usage of a fume hood, do's and don'ts, etc.
Do you repair or service fume hoods?
We work with partners in the field if a hood needs to be repaired. Often issues that pop up are basic and can be easily fixed by a maintenance staff member or replacement parts can be provided by iQ Labs and reinstalled by the customer.
Does it need maintenance regularly?
No, our hoods are very low maintenance and only require basic cleaning from time to time depending on frequency and application being used for.
Is there a warranty?
Yes, we offer a 10 year warranty on all our fume hoods.
What does routine upkeep look like?
Our hoods are very low maintenance and only require basic cleaning procedures to maintain them in working order. It's important after each procedure or test to make sure you wipe down the work surface and clean up any spills. Make sure you wipe down any chemicals that have splashed on to the sash, airfoil, baffles or side walls of the hood to avoid future corrosion or stains.
The baffle system should be removed and cleaned periodically depending on the frequency of use of the hood. This can easily be done by removing the mounting screws and pulling the panels out.
Our hoods come standard with an access panel on each side to access plumbing and electrical fixtures if maintenance is needed. The hoods also come standard with removable exterior side panels making further access to the plumbing and electrical extremely easy.
Sash guide tracks should be periodically cleaned and wiped out if debris starts to build up in them.
Our sash cable and pulley system should not require maintenance. Pulley cables are coated stainless steel and pulley wheels are made from stainless steel ball bearings that are internally greased. If the sash needs to be removed, that can be done by sliding the hood away from the wall, disconnecting the sash cable weight and sliding the sash out the top of the hood.
Frequently Asked Questions
What are the most common uses for this type of fume hood?
General laboratory functions to eliminate toxic fumes, vapors, and dusts. Chemical fume hoods also provide a safety barrier for the user.
Is it ideal for any specific applications or industries?
The LA Series is ideal for any laboratory setting where toxic fumes, vapors or dusts are being used. This fume hood can be used in a variety of industries including but not limited to research, education, industrial, manufacturing and specialty use. It's different liner options (poly resin, stainless steel, PVC) give it the versatility to handle several different application specific chemical types.
What makes this type different from the other types of fume hoods?
The LA Series is certified as a low flow fume hood being able to operate with face velocity airflow as low as 60fpm. It's angled front post design and low profile airfoil allow it to produce smooth airflow throughout the enclosure reducing eddy currents preventing hazardous fumes from escaping. It is built off our 16 gauge steel pan construction giving it rigidity while still allowing removable side panels for easy installation and access for maintenance.
How does this type of fume hood work? What is it used for?
This fume hood works by pulling air from the face of the hood opening to the rear of the enclosure. The air and toxic fumes are directed through a baffle system at the rear of the hood where it is routed up to the exhaust plenum (duct collar) and pulled through a duct system to the outside of the facility. The hood utilizes a movable sash (glass) system, airfoil, and a bypass opening at the top of the hood to pull air into the enclosure. Where the air is pulled in from depends on the location of the sash (either up or down). This hood is used for a broad range of general laboratory experiments where toxic fumes, vapors, and dusts are created.
Where does the exhaust go?
This is a ducted fume hood that uses a roof mounted blower to pull air from the enclosure, through the exhaust plenum and out of the facility.
What fumes, gases or chemicals is this designed to filter out or exhaust?
Any toxic fumes, vapors, smoke or dust. Depending on the chemicals being used, certain liner materials should be used. For general use, the poly resin liner will work. For hydrochloric acids you should use poly resin with corrosion resistant hardware or go with a PVC liner. For work using radioisotopes, you should use a stainless steel interior.
Why Buy a Benchtop Fume Hood from iQ Labs?
With over 60 years of experience, iQ Labs is a leading fume hood manufacturer. We fully customize and design all our fume hoods with your needs and accessibility in mind. We verify its functionality and safety through a proper fume hood inspection, and our dedicated service team is available to answer all your questions. At iQ Labs, our knowledge and service are manufactured into our products. Backed by our industry-leading, 10-year limited warranty, you can be assured you are getting the best quality hood for your next project.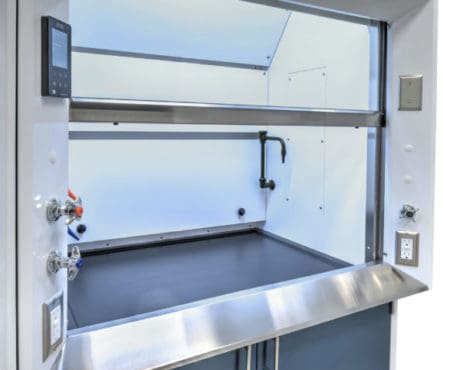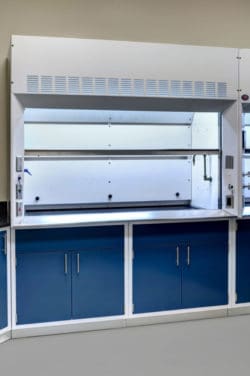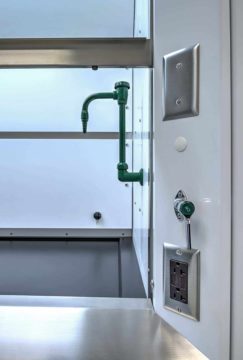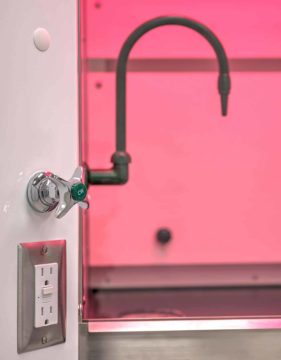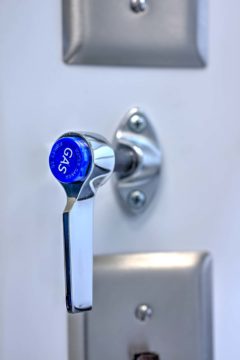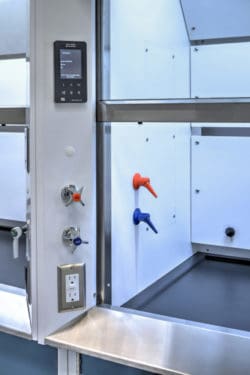 What challenge can we help you solve today?
Send us a message, and we'll get back to you within 24 hours.