What Is a Flammable Cabinet?
A flammable cabinet is designed to safely store potentially flammable or combustible liquids. Instead of storing such hazardous materials on an exposed shelf, a flammable cabinet allows you to store flammable or combustible liquids in a container that is designed to prevent fires and smother flames. 
What Is a Flammable Liquid?
The Occupational Safety and Health Administration (OSHA) defines a flammable liquid as "any liquid having a flashpoint at or below 199.4ºF and having a boiling point at or below 95ºF." These flammable liquids are then divided into four categories based on different ranges of flashpoints and boiling points. A liquid's flashpoint reflects its volatility (ability to generate vapor) and is necessary to know in cases where the vapor of the liquid, not the liquid itself, may burn and cause a fire.
What Goes in a Flammable Liquid Storage Cabinet?
Any flammable or combustible liquid should be stored in a flammable liquid storage cabinet. Common flammable liquids include:
Acetone
Benzine
Ether
Methanol
Petroleum
Flammable Cabinet Inspection Checklist
OSHA requires flammable cabinets to meet certain standards. When ordering your next flammable cabinet or deciding on placement or usage of your cabinets, be sure to follow OSHA's requirements. 
Keep in mind that OSHA has developed separate regulations for the construction industry and shipyard industry. You may also have to adhere to regulations specific to your city or state. Contact your state and local fire marshals for more information.
Placement
Flammable cabinets should not be placed in such a way that limits or prevents people from using exits, stairs, walkways, or doors. Certain categories of flammable liquids may not be allowed to be stored in basements.
Many people choose to place their flammable cabinets under fume hoods. This makes it more convenient to use flammable or combustible liquids in a laboratory setting. 
It's important to note that improper venting of a flammable cabinet can result in a fire hazard. Flammable cabinets must be able to seal completely in order to smother a fire in case of emergency. Improper venting can allow oxygen to continue to enter the cabinet and feed the flames.
Construction
Flammable cabinets are constructed to withstand a 10-minute fire test. During the test, the cabinet doors must remain closed, and the internal temperature of the cabinet must not exceed 325ºF. 
You can store up to 60 gallons of any category 1, 2, or 3 flammable liquid in a flammable storage cabinet. For category 4 flammable liquids, you can store up to 120 gallons in the same cabinet. 
Some states, like California, require flammable cabinets to have self-closing doors. This is to ensure that, in the event of a fire, the flammable cabinet doors shut and contain the flames, preventing spread. Regardless of whether or not your cabinet's door is self-closing, it should have a three-point lock.
Labeling
All flammable cabinets must be conspicuously labeled, "FLAMMABLE – KEEP FIRE AWAY."
Grounding
Grounding your flammable cabinet is not required by federal law, but it can help prevent fires caused by static electricity.
Do I Need a Flammable Cabinet?
Generally speaking, you need to have a flammable cabinet or other OSHA-approved method of flammable storage if you are using and storing flammable liquids. Industries that commonly use flammable cabinets include:
Hospitals
Pharmacies
Medical research labs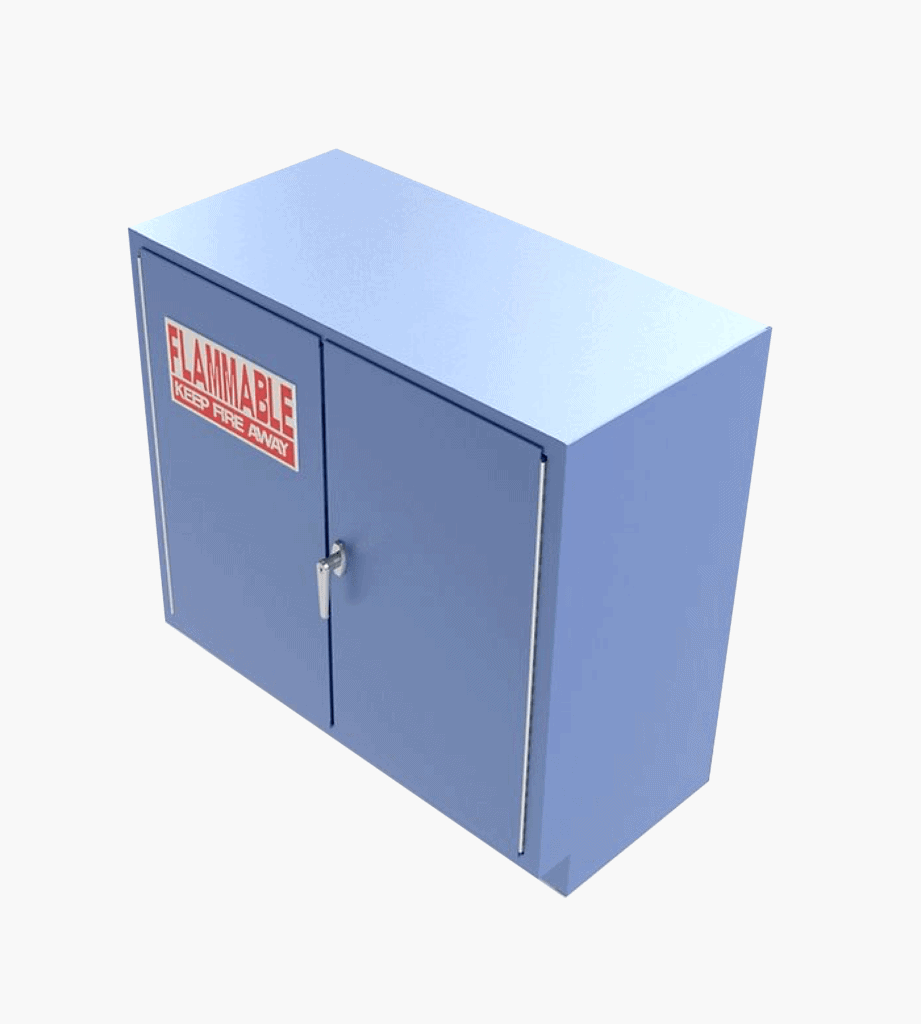 iQ Labs Flammable Cabinets
At iQ Labs, we offer high-quality, OSHA-compliant flammable cabinets that are both UL Listed and SEFA approved. Standard features include:
Height: 29 inches or 35 inches
Depth: 22 inches
Width: 24–48 inches
One shelf
Double-walled
Mineral wool insulation
Epoxy-coated paint
OSHA-compliant labeling
Optional self-closing doors
Multiple color options
Why Buy a Flammable Cabinet from iQ Labs?
Our team at iQ Labs provides custom solutions and personalized designs for laboratories of all kinds. We offer shorter lead times than other manufacturers without sacrificing quality. If your laboratory needs a high-quality flammable safety cabinet, our team is here to help. Contact us today for more information.
Frequently Asked Questions (FAQs)
Does Paint Need to Be Stored in a Flammable Cabinet?
Paint only needs to be stored in a flammable cabinet if you are storing more than 25 gallons.
Can Flammables and Combustibles Be Stored Together?
In most cases, yes. In 2011, OSHA clarified that flammables and combustibles can be stored together as long as no more than 120 gallons are stored in the same flammable cabinet.
What Shouldn't You Put in a Flammable Cabinet?
You should only put flammable or combustible liquids in a flammable safety cabinet. Other hazardous materials, such as acids, bases, or corrosive liquids, should be stored in acid and corrosive storage cabinets or other types of storage units, not flammable cabinets. You should also avoid storing materials in a flammable cabinet that may ignite or feed a fire.