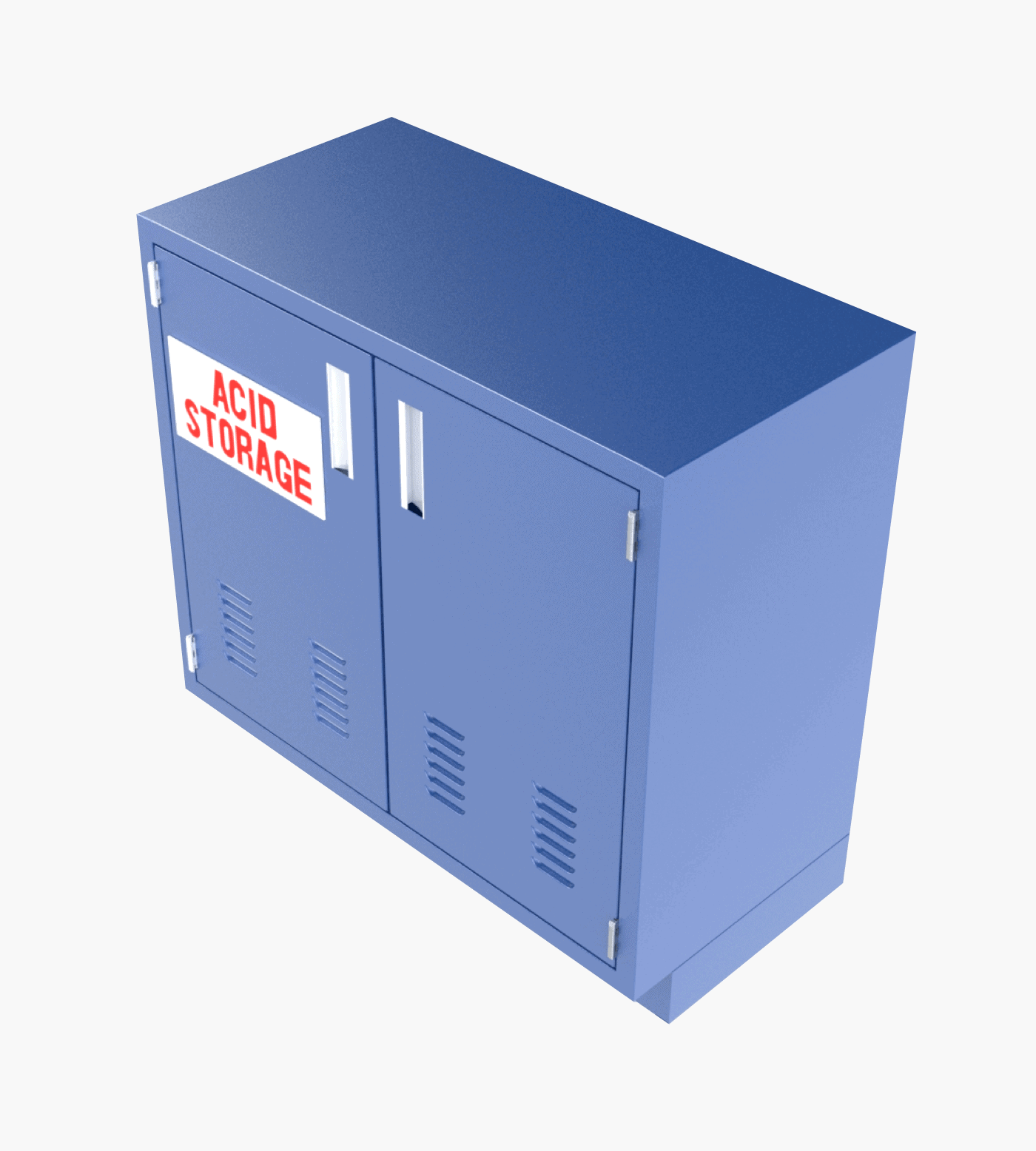 Fume hoods
Laboratory Acid and Corrosive Storage Cabinets
Our durable acid cabinets are built and tested to the highest standard and ensures that hazardous materials are kept in a safe and contained space. These attractively designed acid storage cabinets are ideal for the storage of corrosive laboratory chemicals and are often used as base cabinets for fume hoods. All products UL listed and SEFA certified.
Color options
Standard Features
All cabinet bodies, doors and shelves are lined with polyethylene for maximum protection against fume- and spill-induced corrosion. These cabinets are 18" deep and come standard with one shelf. Available in 29" or 35" height and a variety of widths ranging from 15"–58". Available in all standard colors.
Add On Equipment
22" deep cabinets, drip pans, and vent kits are available to add to your acid cabinet.
Acid cabinets are designed for the storage of corrosive laboratory chemicals, while flammable cabinets are designed for storage of flammable and combustible materials. Acid cabinets are lined with polyethylene. Flammable cabinets are double walled and lined with mineral wool insulations.
Acid Cabinet Requirements
Maintenance and Safety
Cabinets should be inspected yearly and all expired chemicals should be removed. Please see OSHA requirements for guidelines on all chemical storage. Chemicals should NOT be stored in a Fume Hood.
Acid Cabinet Ventilation
All acid storage cabinets feature two venting holes in the back, including 2" hole plugs. In order to function properly, acid storage cabinets must be vented to alleviate any corrosive fumes that may otherwise accumulate inside the cabinet. It is the installer's responsibility to ensure that venting is proper and adequate for the intended use. Failure to vent a cabinet properly may cause corrosion of the cabinet and the cabinet hardware. PVC vents, sold separately, are designed to assist in the venting of acid storage cabinets. Acid storage cabinets feature a removable back panel that also can be used for venting.
Why Buy an Acid Storage Cabinet from iQ Labs?
All iQ Labs acid storage cabinets are built using durable, high-quality materials. When you purchase from iQ labs, you can be confident that your laboratory's hazardous materials are stored in a safe and contained space. Our innovative solutions and years of experience mean that you're purchasing a long-lasting, strong, and quality product, guaranteed.
What challenge can we help you solve today?
Send us a message, and we'll get back to you within 24 hours.