The Flexible Laboratory
The shift from the traditional, rigid lab design, to one that more closely resembles how we work in the 21st century has been a long time coming. With the office furniture industry leading the way over the last several years, the spaces where we work are changing. "Flexible" office spaces are growing in popularity as is the work-from-anywhere trend. As we explore the 5 laboratory trends for 2021 we focus in on laboratory equipment and furniture.
The need to have a space that is collaborative and can easily adapt based on current project needs and staffing changes has been one of the biggest shifts over the last few years. These trends have recently been accelerated by the Covid-19 pandemic, remote work and the social distancing guidelines recommended for most employers and schools when work-from-anywhere is not possible. While this has historically applied more to office work, laboratories are experiencing similar changes.
Here are five of the biggest laboratory trends we are seeing as we head into 2021 related to equipment, furniture and how the laboratories of tomorrow are being created today.
1. Flexibility
Laboratory spaces need to adapt as project needs are rapidly changing, social distancing requirements are in place even for businesses deemed "essential." Staffing requirements can change rapidly, as can the need to move or change equipment, modify processes, and transform spaces quickly.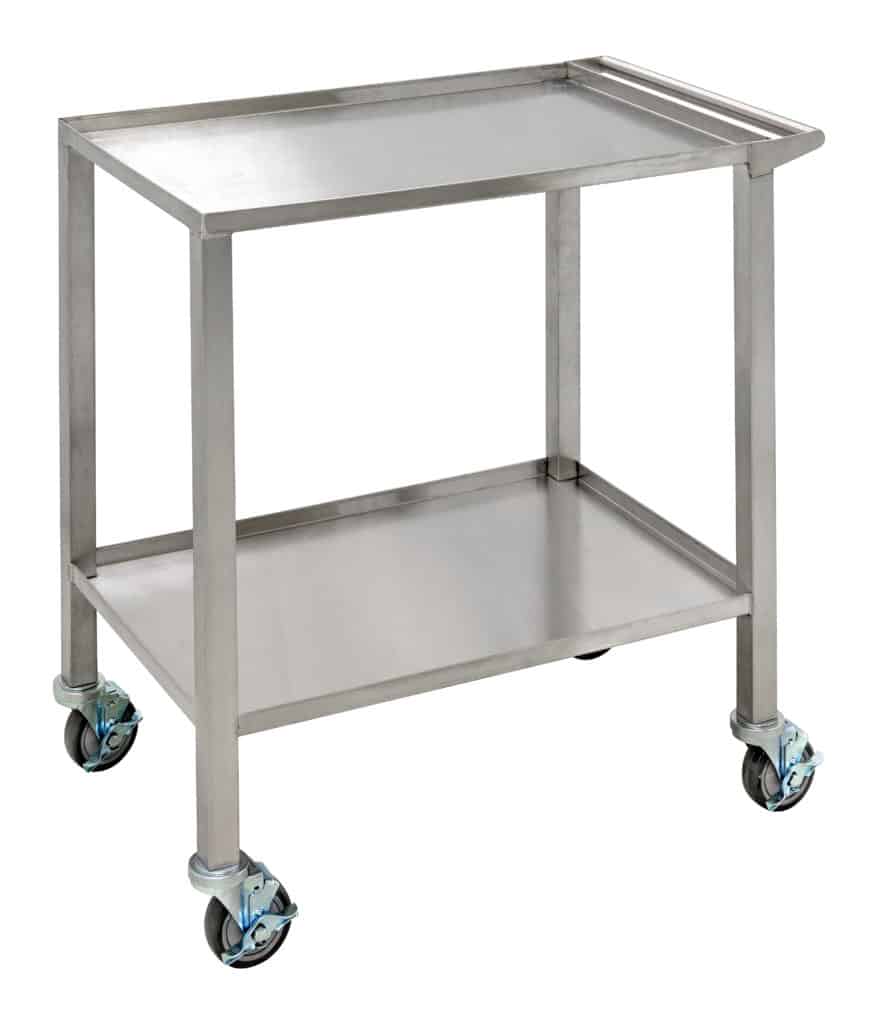 All of this needs to happen without disrupting the normal workflow or business operations for any length of time. Laboratory equipment manufacturers, much like the office furniture industry, are helping companies adapt.
These challenges are being solved with:
Mobile Workstations
Height Adjustable Desks
Modular Work Benches
Collaborative Spaces
Quick-change Lab Carts
These simple fixes result in laboratory workspaces that are agile in a time when this is a requirement for most companies.
2. Collaboration
Even in the time of a pandemic, team-based collaboration spaces are trends we continue to see in the laboratory space. It started primarily at the University level and has expanded to other areas of science, engineering, and research. This open layout concept is providing spaces where whiteboarding and socializing can occur and is a major benefit to employees working collaboratively, sharing ideas and solving problems.
Due to social distancing and PPE requirements, these spaces are being spread out and equipped with safeguards to protect employees. The good news is that due to the rigorous cleanliness standards already in place in most laboratory environments, there are already protocols in place that are easily adapted to these types of spaces.
These open areas, properly utilized, increase the openness and visibility of discovery and innovation, and often work well for boosting team morale.
3. Sustainability
The idea of greener labs has been trending exponentially in recent years, and that means everything from using green energy to power laboratories or purchasing green energy credits have been on the rise. This is largely a shift in the mindset of the industry driven by regulation and the climate change movement.
Sustainability has also become a focus of many equipment manufacturers. More efficient vent hoods, energy saving HVAC systems and other innovations have moved the industry toward a smaller carbon footprint. Consumers and laboratory partners like to partner with companies who are environmentally responsible, a large component in driving this trend.
The creation of multi-use spaces helps decrease the footprint of buildings and research centers which in turn helps lower heating and cooling costs. The ability to shrink the carbon footprint associated with the construction of large facilities is also a major focus. Finding creative ways of becoming carbon neutral is top of mind for lab designers and facility managers and this mindset is trickling down to the suppliers that help create and manufacture equipment for these spaces.
4. Open Lab Concept
Like the collaboration trend above, and in some ways due to it, open labs much like open offices have been positively trending for some time. Precautions such as plexiglass dividers, personal protective equipment and flexible workstations are being taken to safely protect lab personnel as they interact within these open spaces.
The open lab not only promotes collaboration, but transparency and visibility. It gives workers a chance to interact and learn from one another in new and exciting ways. While this open lab concept has been modified by the COVID requirements, it is likely not going away anytime soon.
Design aesthetics which have not always been a priority for laboratory spaces and modular furniture are helping drive this movement. Labs are becoming considerably more colorful and visually appealing than they have been in the past.
5. Talent Acquisition & Retention
Across all industries, hiring and retaining talent has become a major challenge. Environment plays a major role in establishing and maintaining culture and often drives employee retention. Employees are asking questions about sustainability, collaboration, and flexibility even before they join an organization. The concern with the environment they are working in, along with wanting to be in a space that is welcoming is key to both acquisition and retention of top talent.
Designing and building spaces that are employee focused is necessary for not only efficiency but culture and morale. The right laboratory environment and the impression you make on both new and existing employees, can make all the difference in retaining and finding the best members for your team.
Laboratory trends have changed in 2020 and will continue to do so in 2021. Need help finding the right solutions to your flexible equipment needs? Get in touch today and let us know what challenges and trends you are seeing in your laboratory spaces. We look forward to hearing from you.
-The iQ Labs Team