Laboratory cabinets make up for a large portion of the capital investment that is made for research and educational facilities and should be carefully considered. Lab environments are a place for exploring, performing, researching, and diagnosing.  The lab industry is ever changing, and the furniture placed in a laboratory space should be evolving as well.
Lab cabinets are an essential part of every laboratory space.  To have a functioning and useful lab you need proper storage that can withstand the harness of a lab environment.  Multifunctional, modular, and adaptable furniture for every user and every environment.  Delivering durability and high quality. 
Careful consideration should be put into the needs of a lab space. Accommodating reconfiguration with mobile and freestanding cabinets, mobile tables, and mobile workstations, along with shelving and worksurfaces, the ability to move with the user and adapt to new positions defines adaptable laboratory furniture. This allows the scientists work to be as smooth as possible while keeping them comfortable. Comfort improves productivity.
In this article we will discuss 3 things that you must consider when shopping for laboratory cabinets.
Lets dive in!
Lab Cabinet Materials
Deciding what material to use for your lab is the first major decision and depends on a couple different factors including budget, sterilization, and the lab processes for which it will be used. The following are the most popular and each have their place in different laboratory settings.
Woods and Laminates
Woods and laminates are extremely popular for educational spaces, basic product testing, technology, and dry labs. They do not have the durability of steel products but have a low to mid-level price range, are aesthetically appealing, and are typically considered moderate duty from wear-and-tear standpoint. It is key to consider the chemicals that could be used and the need for sterile surfaces as woods and laminates have low corrosive and chemical resistance and are difficult to clean effectively for some processes.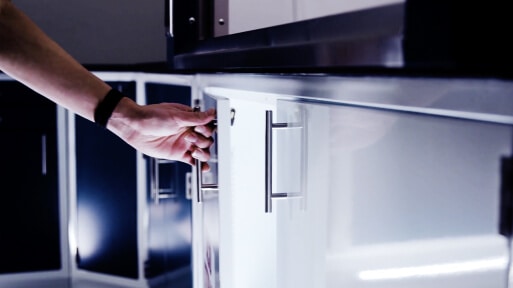 Steel
Steel casework is extremely popular in the wet lab environment, has moderate bacterial and chemical resistance and is highly water and moisture resistant. One of the most important factors when purchasing steel casework is to ensure that the finish paint can stand up to whatever you throw at it. Most manufacturers use a chemical resistant powder coat finish which gives this type of casework its durability.
Stainless Steel
This is the go-to for biological science, clean room, food testing/research, pharmaceutical, chemical, and medical labs. Stainless steel with its low carbon steel content makes it resistant to corrosion and very easy to clean. The downside is the price and its low resistance to scratching.
Lab Cabinet Mechanicals
The mechanicals are often over-looked. Drawer slides, hinges, and casters all should be considered and scrutinized when outfitting your lab. These pieces are the wear items – like the brakes on your car – and will be the first thing to go.
Drawer Slides
It is important to look for full-extension drawer slides and confirm that they have been tested for the weight loads that you will need. Slides come in different styles with side-mounted being the style of choice in the laboratory environment. Also consider the finish, especially if the casework is going to be in a corrosive environment.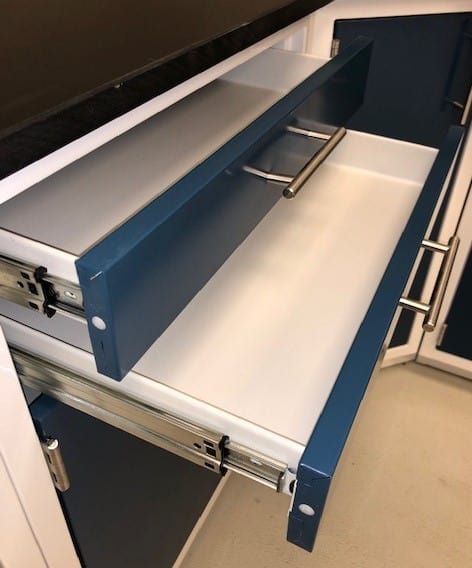 Hinges
Similar to the slides, pay close attention to the corrosion resistance. Understanding the use of each cabinet and the frequency of how many times they will be open and closed will help you determine if you need a low, medium, or high frequency hinge. Typically, lab hinges should be of the heavy-duty variety as it is possible to have 24+ open and close cycles per day.
Casters
Lab spaces are increasingly becoming "flexible". The use of mobile furniture, peds, workstations and storage units are becoming the new standard. With all this movement it is critical to consider the wheels that are going to take you from point A to point B. Look for casters that are dual locking, meaning the rolling and swivel functions can both be locked. Non-marking wheels are a must for most lab spaces and just like your hinges and slides, make sure a high-grade stainless steel is used to prevent corrosion. Consider the space that the furniture will be moved to and from as the wheel size needed to comfortably move it should be sized correctly.
You should look for the following in your materials and mechanics:
Epoxy, chemical resistant powder coated steel
Flush mounted drawers and pulls
Removable bottom and back panels
Full-extension drawer slides with lifetime warranty
Five-knuckle stainless steel door hinges
Prime cold rolled steel
Locking casters
Self-closing doors
Open Units
Lab Cabinet Certifications
Finally, look for laboratory cabinets that have been manufactured to meet meticulous standards. There are a lot of manufacturers out there, but they do not all produce the same level of quality. You should look for standards such as BIFMA, SEFA and UL certifications anytime you are buying casework for a laboratory space. SEFA (Scientific Equipment and Furniture Association) is a performance-based standard used to test the safety, durability, and structural integrity of the casework. When the casework is built to the SEFA standard you can be assured that it has been mechanically, dynamically and exposure tested to ensure its quality and ability to hold up in a laboratory setting.
For more details visit https://www.sefalabs.com/about-sefa
If you are looking for more information regarding laboratory casework, please visit us at www.iq-laboratory.com