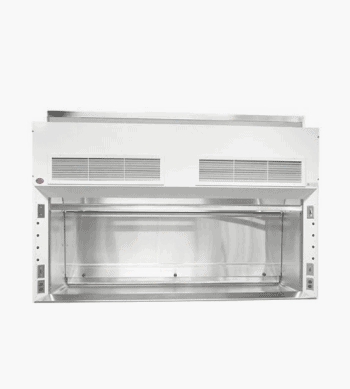 Radioisotope Fume Hood
iQ Labs' radioisotope fume hood is designed for safe and convenient handling of low-level radioactive material. These fume hoods are designed to stand up to the harshest of chemicals, provide exceptional safety for users, and are offered in a wide range of benchtop sizes. Based on the LA-series superstructure, the radioisotope fume hood features a one-piece Type 304 stainless steel interior with coved corners and integral work surface. Access to plumbing is through exterior access panels only.
Color options
Standard Features
One-piece, 16-gauge type 304 stainless steel interior – curved corners welded to dished, reinforced countertop with integral cupsink, all polished to #4 finish
Two-piece stainless steel baffle system with adjustable upper and lower dampers to regulate lighter-than-air and heavier-than-air gases
Side post electrical and plumbing knockouts – on bias surface; in standard or ADA configuration
Bypass grill with adjustable louvers to control bypass air volume
Full-frame, stainless steel vertical sash with integral stainless steel finger pull
Stainless steel sash guides, lower airfoil, duct collar
Sash/counterweight pulley system utilizing four 2 ½"-diameter pulleys for one-finger sash movement; full-width counterweight featuring "Tilt-Lock" for additional safety and durability
Vapor-proof fluorescent light fixture – 2' or 4' (bulbs not included)
Add-On Equipment
Electrical switches and receptacles
Remote-controlled plumbing fixtures, with chrome outlets. Pre-piped hard copper with soldered joints.
Sash stop
Ceiling enclosure
Air velocity monitor/alarm
Automatic sash closer
Cabinets – complete line of metal laboratory casework, including hood base, acid storage and flammable storage cabinets
Blowers – selected to match hood and duct work configuration, corrosive or ignitable exhaust fumes
Why Buy a Fume Hood from iQ Labs?
With over 60 years of experience, iQ Labs is a leading radioisotope series fume hood manufacturer. We can fully customize your fume hood for every laboratory, designed with specific needs and accessibility in mind.We will verify each hood's functionality and safety through a proper fume hood inspection, and the dedicated service team is available to answer any question. At iQ Labs, knowledge and service are manufactured into every product. Backed by an industry-leading, 10-year limited warranty, you can be assured you are getting the best quality hood for your next project.
What challenge can we help you solve today?
Send us a message, and we'll get back to you within 24 hours.