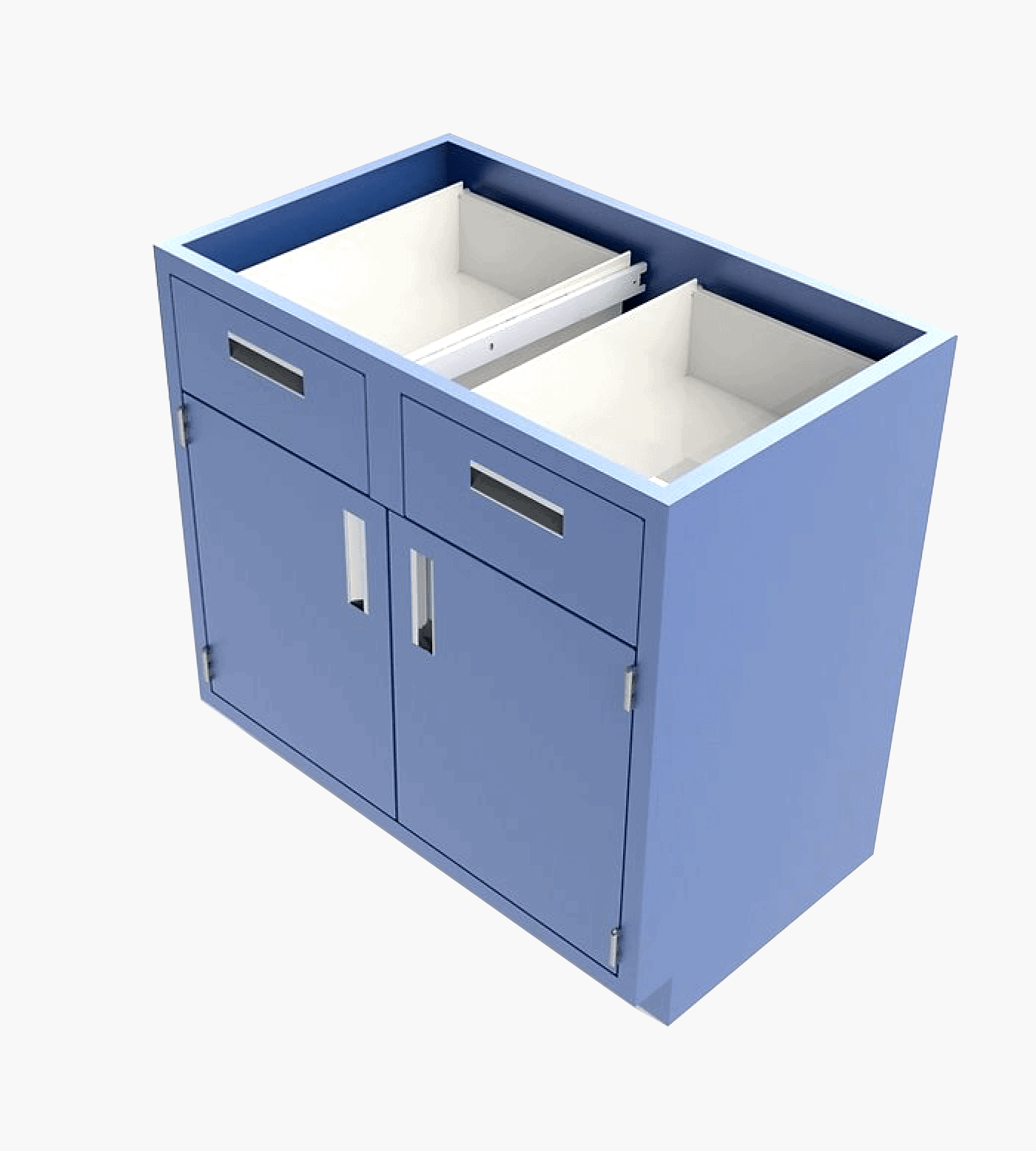 Fume hoods
Laboratory Corner and Base Safety Cabinets
Laboratory casework is the foundational piece for any research, development or testing facility. It is the backbone of the laboratory space, not only providing storage but also helping facilitate process efficiency. Our base and corner cabinets are constructed from 18 and 20 gauge cold rolled steel, providing durable and attractive storage for your laboratory space and giving you the organization needed to get the job done.
Color options
Lab Base Cabinet Types
Constructed from 18- gauge metal and prime grade cold rolled steel, base cabinets are built to withstand any laboratory setting.
Standard Features
Removable backs and bottoms for easy install and cleaning. Full extension, ball-bearing drawer slides. Epoxy coated powder finish that provides excellent chemical resistance (available in a variety of finishes). Stainless steel door hinges. Full depth, adjustable shelves. Available in 35" or 29" height and a wide variety of widths. Limitless combinations of door and drawer configurations.
Add-On Equipment
Additional equipment options:
Metal wrapped tops
Casters
Additional shelving
ADA-compliant heights
Maintenance and Safety
All iQ Labs products meet current OSHA guidelines and are SEFA approved.
Why Buy Laboratory Casework from iQ Labs?
iQ Labs provides high quality, durable state-of-the-art casework with a 10-year warranty. We stand behind our product because it is manufactured in the US using chemical protectant powder coats and heavy duty metals. The iQ Labs product line is hearty, and we have one of the shortest lead times in the industry. And if you want cutting-edge products, we are continuously innovating throughout all our product lines.
What challenge can we help you solve today?
Send us a message, and we'll get back to you within 24 hours.